February 24, 2022. Russian ground forces advance from the north and northeast toward Kyiv. «Loud explosions awakened me,» Elina recalls. The hepatologist from Kyiv sits on a yellow sofa circled by the curious gazes of journalists at the International Liver Congress (ILC) in London. Despite the distance, the experiences from the past months are ever-present.
The rumbling of the airplanes flying over the media center at the Congress makes the Ukrainian shrug briefly. Missile alerts from Kyiv are trundling in on her smartphone. A sound that has been accompanying her steadily since February 24, at times even hourly.
It was afternoon on February 24 when the air alert went off in Kyiv. Citizens fled to air-raid shelters, metro stations, or by car to the west, leading to long traffic jams. Many stayed — like Olena, also a hepatologist, who was working in a Kyiv hospital. Her unit, gastroenterology, is located on the first floor. She has no idea what is happening outside the hospital doors.
Olena's family was spread out in and around Kyiv that day. «It was hard to bring everyone together». Finally, Olena's father, daughter, and mother hid in the country house. That very place, however, where the tanks rolled in. «We couldn't hear the planes. We didn't know tanks were in the city,» Olena says. A phone call from Elina cleared her up: «The tanks are coming to your area, to your house. In a few minutes they will be there,» Olena recalls Elina's words, «I was panicking, really panicking.»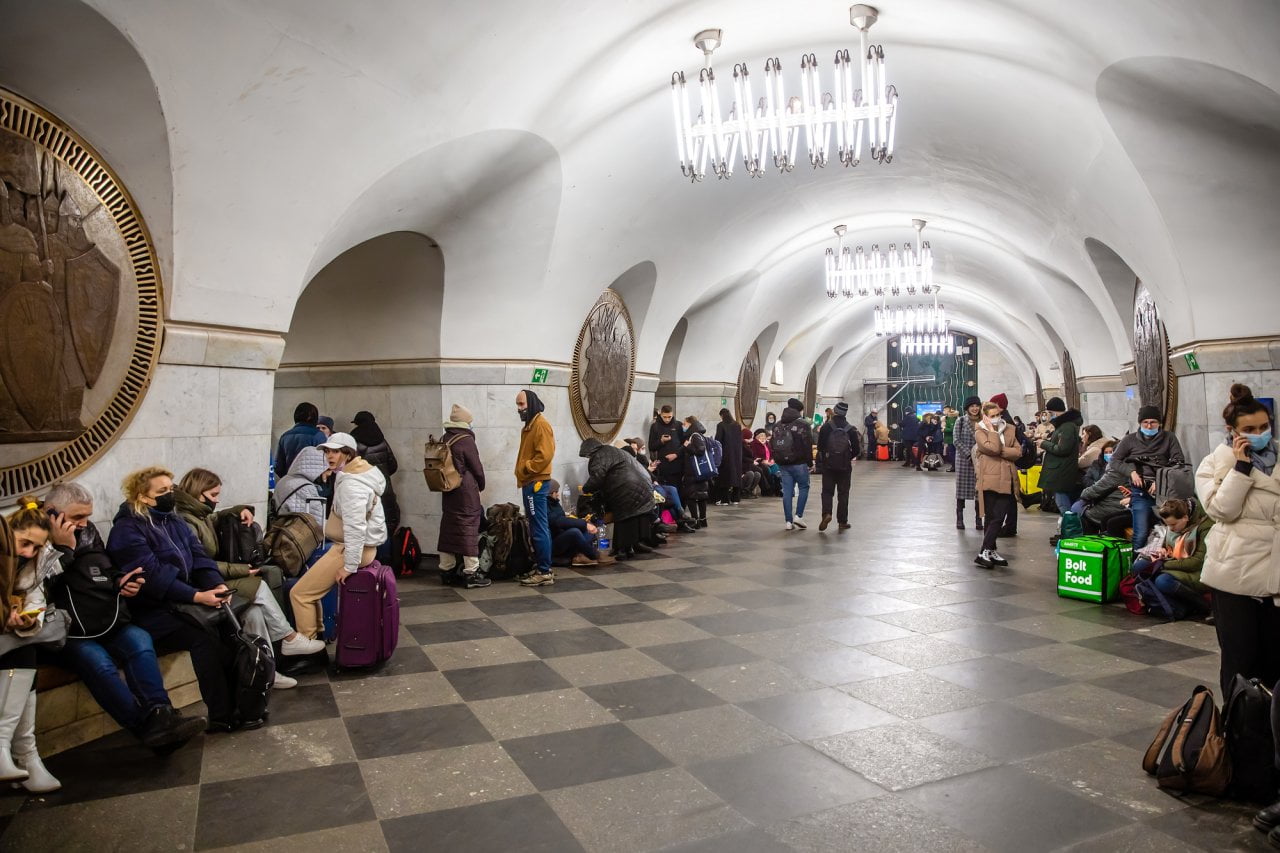 Kyiv metro stations serve as shelter for thousands of people during rocket and bomb attacks, February 24, 2022, palinchak / Depositphotos
But work kept her busy. «We didn't know what to expect. We prepared to take in people with severe trauma,» Olena describes. Initially, difficult patients came, with decompensated cirrhosis. At that time it was difficult to perform timely operations. The medical staff was overwhelmed. She saw many patients with Post Traumatic Disorder. Frequently the trauma manifested in gastric dysfunction, often a syndrome of stress. «It's a big psychological trauma for all of us,» Olena says. To combat the stress, many Ukrainians turned to alcohol. The aftermath of this will be seen only in years.
«The first weeks were hard,» Elina says. «No one needs to feel how terrible it was, it's impossible to understand,» Olena adds. For the female doctors, the shift got longer. On some days medical teams stayed five days in the hospital, twice as long as before. Colleagues dropped out, while Doctors from the neighboring Irpin came to help. Not all of them withstood the trauma of war. In one hospital in eastern Ukraine, at least 30 doctors fled during the first days of the Russian invasion. They had to care for soldiers and could not bear the sight of war injuries. Many doctors fled abroad, but most of them returned, at least to hospitals in Kyiv.
Hospitals provided shelter for those whose homes had been bombed. Many moved to the hospital with all of their belongings, and stayed there with children, cats, and dogs, sleeping on the floor, often for several months. Yet hospitals were also targets. More than 214 health facilities (as of July 1, 2022) have been attacked since the Russian invasion, according to the World Health Organization (WHO). Ukraine has around 2,500 hospitals. Experts report that there are cities where the entire healthcare infrastructure has been destroyed. Some hospitals were also hit several times, within a few days. Such as a hospital an hour's drive from Mariupol, where also a maternity clinic was targeted.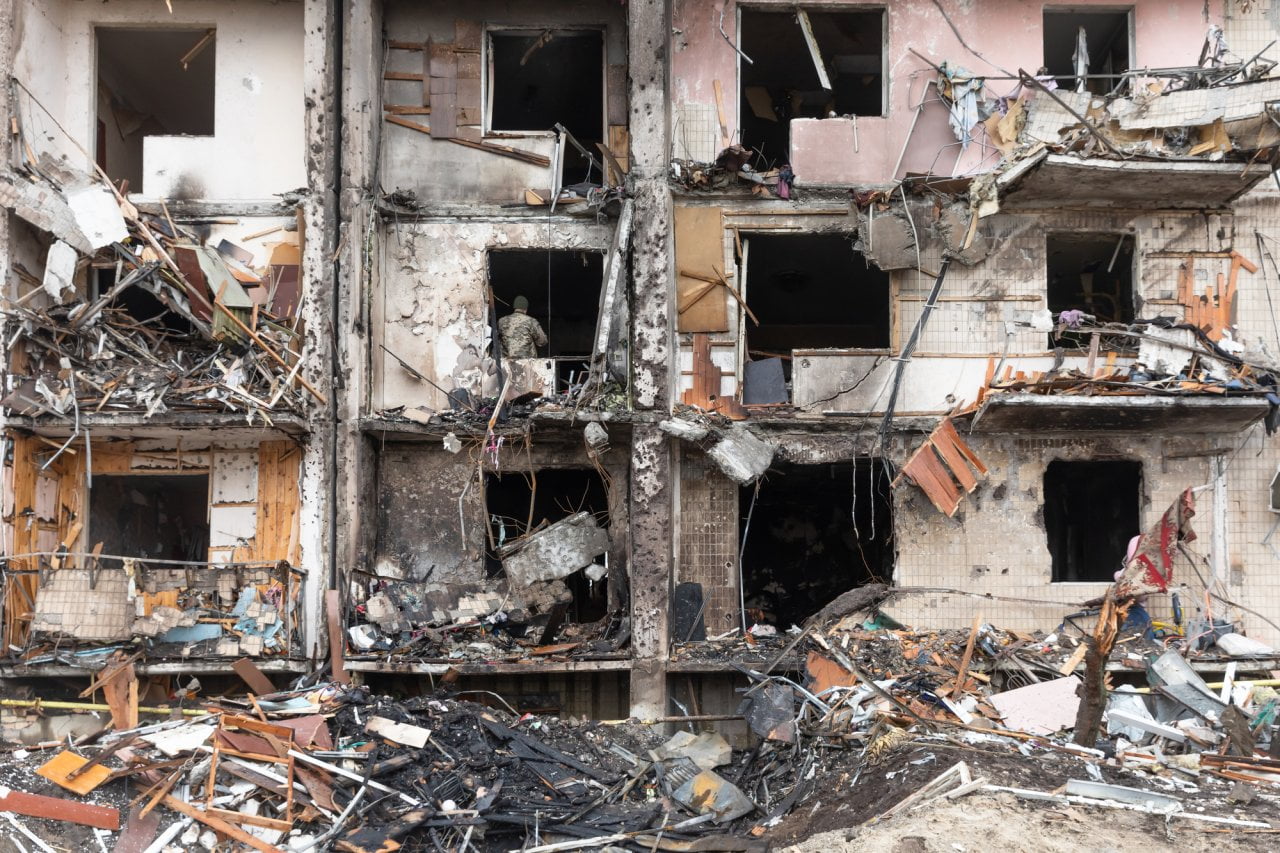 View of a civilian building damaged after a Russian missile attack on the city of Kyiv, February 25, 2022, Depositphotos
Kyiv remained occupied from February 24th to April 2nd. One of Russia's initial military goals, to capture the city within a few days and overthrow the Ukrainian government, failed and was abandoned after fierce fighting in late March. The military pulled back and intensified the offensive in the east of the country. As Russian troops withdrew from occupied areas northwest of Kyiv, the scene of destruction and civilian casualties unfolded.
«My life, that of my family and friends, is changed forever,» Elina says. «We did nothing wrong,» she wrestles with tears, resting her arms on her lap. Under her blond, hair flashes a deep blue blazer with an emblem. Her gaze is friendly and warm. When she is not speaking, she blankly stares into space.
The hospitals in which the physicians work remain intact. Neither devices nor other equipment was destroyed. «The situation in Kyiv is better than in Lugansk, Donbas, or Donetsk, where medical care partially collapsed. A tough situation especially for the chronically ill", Olena points out. Still, patients from eastern Ukraine were rarely seen in Kyiv. Most of them fled further west, to Lviv or abroad.
7.7 million Ukrainians have left their homeland since February, according to UNHCR, and 2.6 have returned to Ukraine in the meantime. Olena and Elina are in contact with many patients even after they have fled abroad, helping them get medication via telemedicine. Since the beginning of the war, the two doctors have seen more cases of decompensated liver cirrhosis, autoimmune diseases, and toxic hepatitis. They believe, that the toxins derive from bomb remains, that get into the air, water, and food, and thus into people's digestive tracts, which shows in blood and liver.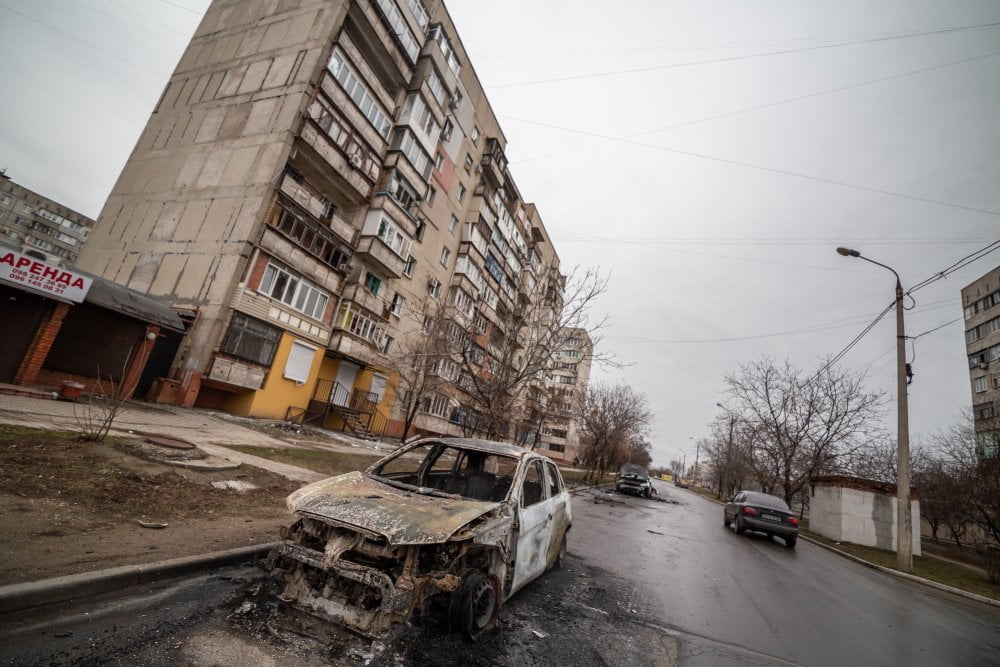 An apartment block and cars after the explosion of a missile in Mariupol, darvik. photography, Depositphotos
Their hospital also received humanitarian aid supplies, but in many cases, they were supplied with medicines that are not needed for their treatments, such as vast quantities of paracetamol. More necessary for their treatments are albumin, intravenous solutions, and antibiotics, as well as drugs against viral hepatitis. It is too early to predict whether the cases of chronic hepatitis will increase. However, the most necessary need for medication is for the military, she said.
«Our patients are expecting us»
Olena and Elina are part of the Ukrainian delegation to the International Liver Congress (ILC) in London. The fact that they can be on-site makes them both very grateful. A few days ago, the women started their journey from Kyiv, which had been planned for half a year. Nonetheless, it was an exhausting trip. At first, the Ukrainians came by bus to cross the Polish border, where they had to wait for more than ten hours. Also, they received their visa only with the help of EASL. The European Association for the Study of the Liver (EASL) also enabled around 300 Ukrainian physicians to be part of the congress online.
In a few days, both doctors will head back to Kyiv. Since the beginning of war, they stayed in their country and never thought of fleeing. Back home, they will continue to restore the medical status that was present before the war. «Our patients are expecting us,» Olena says.
Help for Ukraine

Organizations involved in helping Ukraine: Ärzte ohne Grenzen, Apotheker ohne Grenzen, die Griechisch-orthodoxe Kirche, Nachbar in Not, die Caritas, das Rote Kreuz, die Diakonie, Hilfswerk International, SOS Kinderdorf und Malteser international. Nearly €69.070 ($72.030) have been donated by the Medical Association for Vienna to support international organization in the Ukraine crisis.

Doctors can also volunteer for helping Ukraine at aid organizations that are registered in the doctors' list. More details can be found in the weekly doctors' news.

If you would like to provide short-term housing for people who have fled Ukraine, you can register with the Federal Agency for Care and Support Services (BBU) at https://forms.office.com/r/GdWUeGJ2C7. For more information, visit www.bbu.gv.at/ukraine-krise-wir-organisieren-Nachbarschaftsquartiere .

The International Liver Congress (ILC) was held June 22-26, 2022 at ExCel London (2023 in Vienna) read and see: Website, Twitter channel, youtube channel The ILC is hosted annually by the non-profit organization European Association for the Study of the Liver (EASL) and attracts scientific and medical experts from around the world to learn about the latest findings in liver research and share clinical experiences. Since its founding in 1966, EASL, the leading liver association in Europe, has grown to over 4,800 members from around the world, including many of the leading hepatologists in Europe and beyond.